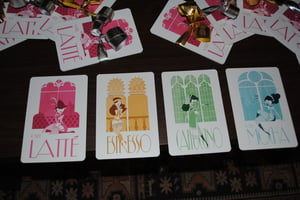 $

10.00
This complete set of all 4 Coffee Girl postcards by artist Lotan Kritchman is the perfect holiday gift!
Each post card is 4X6'
Great for stocking stuffers or art pieces for the kitchen!
Each card has art on the front and back.
The reverse side shows the pencil sketch, and a brief description of the type of coffee being presented.
Printed on thick paper and glazed smooth, these things are nearly water proof! Includes a nice UV stamp for texture.
Quality cards!